COLES SUPERMARKET COMING TO MERRIFIELD!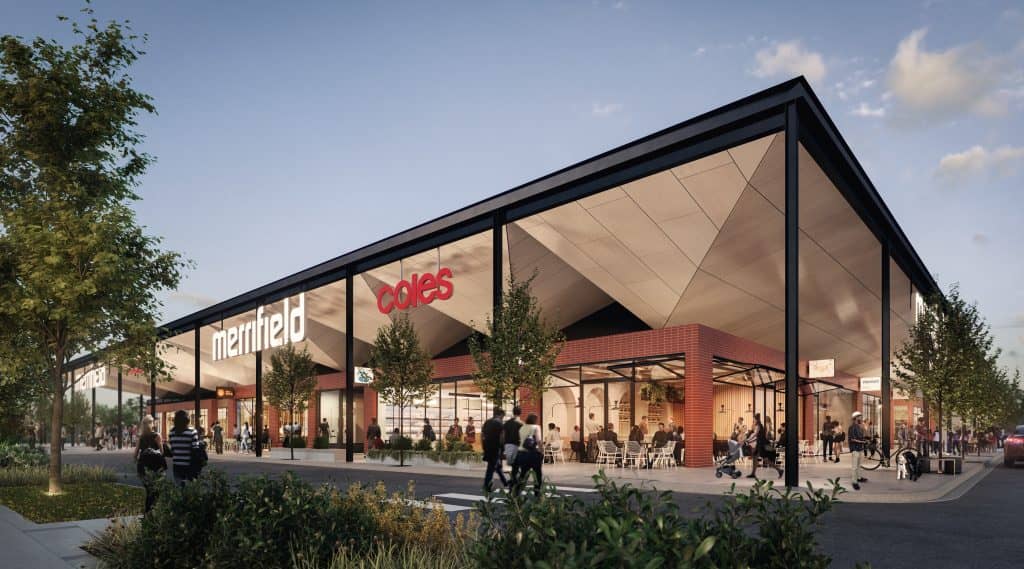 A Coles supermarket is coming to Merrifield and residents will not have to wait long for the activity to commence, according to joint venture partners QICGRE, MAB and GPC.
With construction due to start in 2019, the brand-new Coles will anchor the $40 million first stage of the Merrifield shopping centre, which is due to open in 2020.
Featuring over 7,000 square metres of retail floor space, stage one will also include approximately 20 specialty/retail shops, with a proposed pharmacy, bank and a variety of food and beverage options on the cards.
The shopping centre is part of the Merrifield City Centre, planned to be the largest retail centre in Melbourne's north and set the benchmark for a thriving city – while delivering what the community needs right now with a Coles supermarket.
The Merrifield City Centre will ultimately offer a range of retail experiences from everyday shopping essentials to specialist retail offerings and dining options, providing a much-needed central retail destination for the region and walkable lifestyle for current and future Merrifield residents.
The Coles announcement follows the delivery of a number of essential amenities and services to Merrifield to date including a café, multiple parks, a monthly farmers' market, kindergarten, child care, community support programs and the exclusive Merrifield Connect resident bus service, with the Merrifield City Centre set to be the largest addition to the Merrifield lifestyle.
The shopping centre will be delivered by QIC, which is behind a number of major shopping destinations, including Eastland in Melbourne's east and Robina Town Centre on the Gold Coast.
Managing Director of QIC Global Real Estate, Steve Leigh, said the Merrifield City Centre reflected a philosophy of creating multi-purpose, retail-led destinations that fulfil the lifestyle needs of communities.
"This first stage of Merrifield's City Centre is an essential component of our long-term development that will comprise a best-in-class centre delivered in a number of stages to service Melbourne's northern growth corridor," Mr Leigh said.
"We are pleased to bring our expert knowledge in creating large-scale city centre destinations to this leading master-planned development."
Managing Director of MAB, Andrew Buxton, said the announcement of Coles and the development of a regional shopping centre within the Merrifield City Centre was part of a vision to create a premier city lifestyle at Merrifield, Victoria's largest mixed-use master-planned community.
"Development of the first retail stage represents an important milestone in the creation and delivery of the future epicentre of Melbourne's north with plans for more than 200,000 square metres of retail floor space at completion".
"Our commitment is to the early delivery of services, shopping and restaurants for the new residential and business community at Merrifield and create a premier lifestyle and business destination for the region," said Mr Buxton.
Build your dream home near the Merrifield Shopping Centre
For those desiring a walkable lifestyle, the closest land to the upcoming Coles supermarket and shopping hub has just been released and will be just a 12 minute walk from the future Merrifield City Centre.
The 'Midtown' release offers a wide variety of premium land lots in one of Merrifield's best locations – providing a rare opportunity to live spaciously nearby the Merrifield City Centre and enjoy the best of what Merrifield has to offer. The first stage of the Midtown release is selling now, with lots ranging in size from 258 to 709 square metres.
Surrounded by parks, schools, shops and entertainment, Midtown has been designed as a boutique, walkable neighbourhood offering residents an enviable and contemporary urban lifestyle found only in Merrifield.
Just minutes away from an upcoming linear parkland and watercourse, Midtown will also include two new parks, a nearby community hub planned to open in 2021, active sporting facilities, a recently-announced primary school also due in 2021 and proposed additional primary and secondary schools.
For purchasers buying in Midtown now, the first stage of the Merrifield shopping centre, including Coles, is expected to be open when they move into their new homes.
Click here to explore our latest land release and live close to the City Centre.