Meet Kool Kidz newly appointed chef, David Xerri
Recently the Merrifield community has had the pleasure of seeing a dedicated early learning, childcare and kindergarten open its doors with the arrival of Kool Kidz. This best in class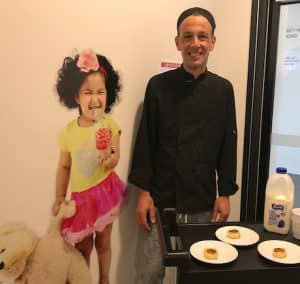 facility not only comes equipped with spacious playrooms and an abundance of books, toys and craft supplies – it also features a dedicated kitchen and its own master chef!
The man behind the apron is David Xerri, who came to Mickleham five years ago after growing up in Craigieburn and saving for a home of his own. 'I love it here,' he says of Merrifield. 'Being able to work in the same neighbourhood that I live in is awesome. I'm excited to meet more locals and get to know the people in the area.'
David's desire to add his culinary credentials to Kool Kidz arose from a very simple place.
'I applied for my position because I wanted to become a part of the community and give something to it.' He's excited by the centre's potential to bring the community closer together, through providing a quality space where kids can laugh, play and learn together.
When asked what drew him to cooking, David recounts growing up watching his grandmother prepare meals. 'I used to watch my grandmother cook. It inspired me to become a chef.'
Now, he's drawing on all that experience to provide healthy meal options for kids. 'I've been in the food industry for about 25 years. I've cooked for all sorts of people and now I'm looking forward to using my expertise to cook for children.'
David is passionate about the power of food as a way to form bonds. 'My favourite thing is seeing the smiles and satisfaction on people's faces. Food brings people together.' And he's thrilled by the future unfolding in Merrifield.
'It's exciting, how it's all come together. I can't wait to see how this city will turn out.'
Click here to learn more about Kool Kidz Merrifield.
Check out the brand new facility below.